– Sell the best hand care products
Would your customers be interested in the best hand care system?
Our 3-Stage Hand Care System is manufactured with German technology using the best quality ingredients and we are offering UK businesses the opportunity to market this brand and achieve good profits. The product is so effective that it sells itself once tried – repeat business has been 99%.
At Barton Chemicals, our engineers were happy using Deb and other branded hand cleaning products UNTIL they tried Pevastar Hand Cleaner! The cleaning power from first use was so impressive that our Managing Director, Gary Barton, decided to import the Pevastar range so that others in the UK could have the benefit of this amazing product.
As a retailer, we offer you a customized display board with your logo so that you can maximise the power of your brand name.
Here are some comments from mechanics after they tried Pevastar Hand Cleaner for the first time:
"My hands have never been as clean."
"Wow, I didn't think you can could get a better hand cleaner than the one I've been using!"
These genuine quotes are not marketing hype – we back them up with free samples for anyone who would like to try the hand cleaner. Try the amazing cleaning power of Pevastar hand soap for yourself!
If you require any further information and pricing, please contact Gary and our sales team on 01506 862 299.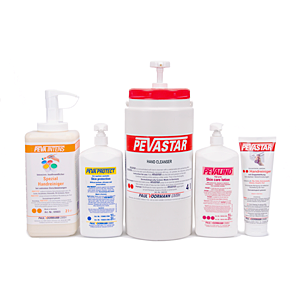 3-STAGE WALL DISPENSERS
The ideal system when health and safety is an important issue.
1st Stage
Peva Protect Barrier Cream – protects against oil, fats, lubricants, paints, bitumens, varnish, cements, lime dust, dyes, and sealants.
2nd Stage
Pevastar – cleans oils stains, plus oil, fats, lubricants, paints, bitumens, varnish, cements, lime dust, dyes, and sealants.
3rd Stage
Pevalind Moisturiser – soothes after regular and vigorous hand cleansing. Keeps skin supple. Regenerates affected areas of skin.
PAINT & INK HAND CLEANER
Peva Intens Paint and Ink Hand Cleaner – removes paint, ink stains, resins, adhesives, polyurethane foams, and similar.
Area of application
•Lacquers, paints, acrylic paints
•Resins (e.g., epoxy-resins)
•Adhesives, polyurethane-foams, and similar.
Composition
•Paste
•Contains skin-friendly and ecology-friendly solvent
•With gentle high-grade synthetic abrasives
•Silicon-free
Properties
•Cleanses strongly and reliably deep into the pores
•Removes easily very heavy soilings
•Contains effective refattening agents
•Ideal for many special areas of operations